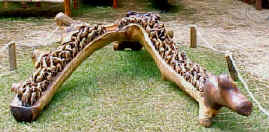 This amazing table has a great story in its history. We bring it to you in the words of the artist who arranged for it to be created. In Africa you will find the Funzi Furniture Factory operated by Michael J. Calnan and his partner Sabine. Just below, Michael (Aussie Mike) tells the story of this creation in his own words.
"I do not do much of the work myself, I am more of a designer. I am fortunate to live in an area of the world with an abundant workforce of talented woodworkers. All of them are men with massive skills in wood, but very little direction other than the immediate tourist market. Something they can make today and sell tomorrow. What I do is direct this talent toward it's true potential.
One day, a man of my own age (now 52) turned up asking for a job. He had a likeable character and I employed him as a gardener. After some months, we got talking personally and I noticed scars on his face resembling the Mkonde tribe in Mocambique. I asked him if he was indeed one of these famous carvers of wood. He admitted he could carve, but never told me because he thought he would not get a job as a carver. He knew I needed a gardener.
I asked him if he could carve elephants for me. Is the Pope a Catholic? It was the same answer.
I tested him on an old Indian Almond root (Terminalia Catapa) that had been laying around for a few years. I told him where I wanted the elephants to go and how many and what size they should be. I arranged for everything, including a pair of glasses. He was my age and I need glasses, so I assumed he would also.
He set to work. He knew his job! I found a new root and Bernard set to work afresh.
After three months of guidance and argument, he proclaimed quietly one day he was finished. I walked around the developing piece of old root and held my ear.
'Bernard, I cannot hear any elephants. Where are the elephants?'
'I understand', says Bernard.
Three months later, again, 'I have finished, Bwana'. I walked around the now very developed table with my nose in the air, sniffing softly.
'Bernard! I cannot smell any elephants!'
'I understand', says Bernard.
Three months later, I repeated the same process proclaiming that you cannot get splinters from an elephant and walked off. It was one and a half years before the table was finished. That was 8 years ago.
Bernard still works for me and I am the proud owner of the most beautifully carved elephant table in the whole world. The Pope is indeed Catholic and Bernard is the greatest carver of elephants in the world, my world anyway."
Just below are two more pictures of this amazing project.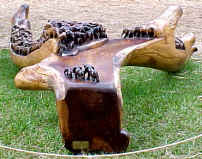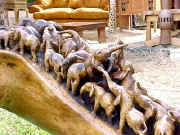 More amazing elephant tables are available on Mike & Sabine's website.
Just click on the link below.