African beds......
---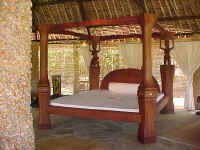 Riley's bed. Two meters twenty by two meters fifty mattress size. Solid mahogany. They do not come better than this. Over twelve months in the making. Completely made by hand. Each leg is from a solid beam originally 18" x 18" all from the same tree. The ultimate in bedroom equipment. This bed is around 500 kilos. More pictures. Real presidential equipment.

---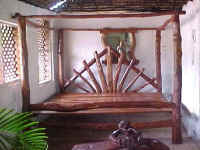 African funzi four poster sunrise bed. Made from solid boriti poles. This bed can be flat packed and shipped anywhere in the world. Contact us for shipping quotes. Mattress 1.8 m x 1.8 m or any size you want to order.

---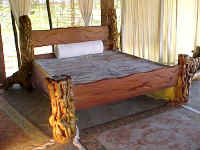 The Shetani fertility bed. This bed was carved by our Mkonde carver from Mozambique during his wife's pregnancy. Each leg is carved in detail with fabulous African pregnant nude figures. More pictures

---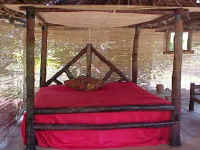 African four poster, carved. More pictures

---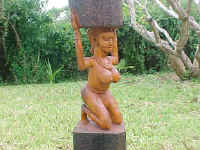 The original test carving for the bed at top.

---