Funzi beds......
---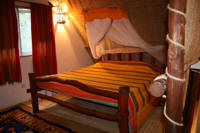 A typical Funzi bed dressed with mosquito net and covers. These are the original beds we are famed for. Made from solid mangrove poles which grow and are farmed in the coastal salt waters of the equatorial and tropical regions of the world. Beautifully finished in linseed oil and beeswax. We custom make to any size. More

---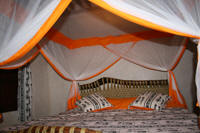 Seen here another the four poster version dressed with a curtain material from our Indian suppliers in Mombasa. Looking for something different? This is it. Can be shipped anywhere in the world. Call us for a quote to your nearest airport.

---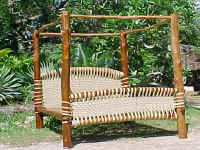 With mkeka ends. Completely comes apart for shipping. Easy to re erect.

---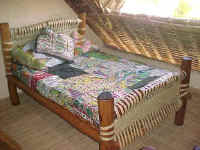 A small Funzi single bed can be ordered in any size. Easily shipped.

---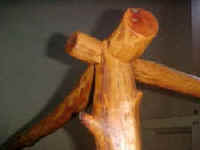 Close up of the intricate joining.

---
Each Funzi bed is identifiable by our trademark carved Gecko.

---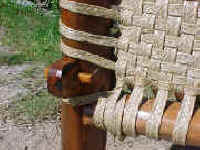 A view of the flat pack leg joints. Easily reassembled.

---