Driftwood beds......
---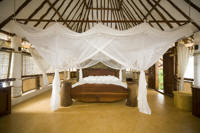 The legs from this magnificent piece came from a log we found on our beach 10 years ago. Another year went toward the end result which now resides in a villa in Kenya. More pictures?

---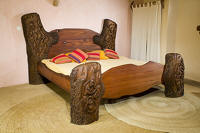 Sabines latest creation also from driftwood. Each leg is intricately carved in the shetani fashion of the traditional carvers from the Mkonde tribe of Mocambique. The eventual owner of this bed will be indulging in one of life's true extravagances. More pictures.

---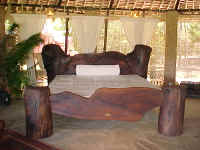 This classic double bed is carved from the remains of an single old Iroko tree found washed up on our beach. Very heavy. More pictures

---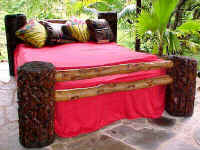 Shetani bed. Carved from an old log washed up in the local Tiwi river.

---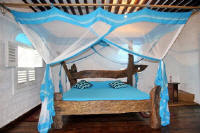 A magnificent specimen of what we can do with driftwood. Beautifully dressed by Sabine in a blue tone. See more of this beautiful piece. Click here.

---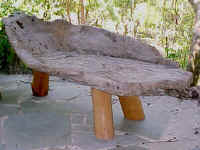 A chaises lounge from driftwood.

---